From Wikipedia, the free encyclopedia
Sixteen Candles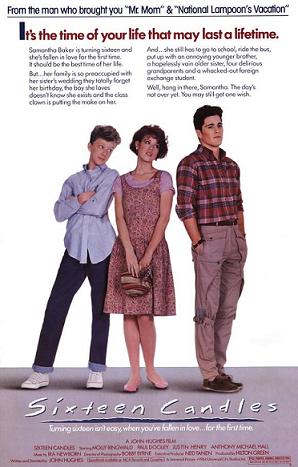 Theatrical release poster
Directed by John Hughes
Produced by Hilton A. Green
Michelle Manning
Ned Tanen
Written by John Hughes
Starring Molly Ringwald
Justin Henry
Michael Schoeffling
Haviland Morris
Gedde Watanabe
Anthony Michael Hall
Music by Ira Newborn
Cinematography Bobby Byrne
Editing by Edward Warschillka
Distributed by Universal Pictures
Release date(s) May 4, 1984
Running time 93 minutes
Country United States
Language English
Budget $6,500,000
Gross revenue $23,686,027
SixteenCandles is a 1984 coming-of-age film starring Molly Ringwald, MichaelSchoeffling and Anthony Michael Hall. The film was written and directedby John Hughes.
Plot
Awkward high school sophomoreSamantha "Sam" Baker (Molly Ringwald) struggles to get through the dayof her sixteenth birthday, which her entire family forgets because herolder sister, Ginny (Blanche Baker), is getting married the next day.She is also plagued by her ongoing infatuation with the very popularand very attractive senior, Jake Ryan (Michael Schoeffling). Her day atschool fares no better when she finds out that her completed "sexquiz," which she surreptitiously slipped to her friend, never reachedher (and, unbeknownst to either of them, was picked up by Jake Ryanhimself). Sam panics as the quiz contains personal information,including the fact that she is a virgin and is saving herself for Jake.
Shehas a whole new set of problems when she arrives home to find that bothsets of grandparents are staying at the Baker home for the duration ofthe wedding visit. On top of it all, one set of grandparents bringsalong bizarre foreign exchange student Long Duk Dong (Gedde Watanabe).Sam's grandparents force her to take him along to her school dance thatnight and, to Sam's amazement, it takes "The Donger" only five hours tofind an unlikely girlfriend — the tallish, large-breasted jock,Marlene, promptly nicknamed "Lumberjack." After some ensuing madnesswith everyone involved, Sam's family eventually makes up before thewedding and apologizes for forgetting her birthday.
A runningsubplot involves a geeky freshman (Anthony Michael Hall) whocontinually (and unsuccessfully) tries to bed his love interest, Sam,to satisfy a bet with his friends. The character is referred to onseveral occasions in the movie as either "Ted" or "Farmer Ted", but heis credited solely as "the Geek."
In the auto-shop room duringthe dance, Sam and Ted begin talking and Sam confesses her love forJake. Upon hearing this, he tells her that Jake had been asking abouther at the dance, and they agree that Sam should just go and talk tohim. As she's leaving, he reveals the wager to Sam, who, in her excitedstate, agrees to loan him her underwear to help him win a dozen floppydisks.
Later (after a peepshow of Sam's underpants for $1admission, which she does not find out about until the next day), Tedand his equally unwelcome friends, Cliff (Darren Harris) and Bryce(John Cusack), crash the senior after-party at Jake's house — duringwhich the entire house is completely trashed. At night's end, Jakefinds Ted trapped under a table and they begin to talk. Jake inquiresfurther about Sam; Ted explains the situation. Jake makes a deal withTed: If Ted lets Jake keep Sam's panties, then he will let Ted drivehome his inebriated, stuck-up, prom queen girlfriend, Carolyn Mulford(Haviland Morris), in Jake's father's Rolls Royce. Jake later uses theexcuse of finding them together to break up with Carolyn (who hadsurprisingly fallen for Ted, and thus doesn't mind the break-up verymuch). Afterward, Jake drives to the church just in time to meet anincredulous Sam after her sister's wedding. The movie concludes withthem sharing a kiss over a birthday cake with sixteen candles.
Cast
Main characters
* Molly Ringwald as Samantha Baker
* Justin Henry as Mike Baker
* Michael Schoeffling as Jake Ryan
* Anthony Michael Hall as Ted, aka "The Geek"
* Gedde Watanabe as Long Duk Dong[2]
* Haviland Morris as Caroline Mulford
* Paul Dooley as Jim Baker
* Carlin Glynn as Brenda Baker
* Blanche Baker as Ginny Baker
Supporting characters
* Edward Andrews as Grandpa Howard Baker
* Billie Bird as Grandma Dorothy Baker
* Carole Cook as Grandma Helen
* Max Showalter as Grandpa Fred
* Liane Alexandra Curtis as Randy
* John Cusack as Bryce
* Darren Harris as Cliff (Wease)
* Deborah Pollack as Marlene, aka "Lumberjack"
* Joan Cusack as Geek Girl
* John Kapelos as Rudy Ryszczyk
* Jami Gertz as Robin
* Brian Doyle-Murray as Reverand
* Zelda Rubinstein as Organist
Candles
SixteenCandles was filmed primarily in and around the Chicago North Shoresuburban communities of Skokie and Highland Park, Illinois during thesummer of 1983.[3] Most of the exterior scenes and some of the interiorscenes were filmed at Niles East High School,[4] close to downtownSkokie, the setting for Hall's driving the Rolls Royce. A cafeteriascene, gym scene, and auto shop scene were filmed at Niles North HighSchool. The Baker house is located on the 3000 block of Payne Street inEvanston. The church and parking lot where the final scenes take placeis in Glencoe.
Soundtrack
Sixteen Candles
Soundtrack by various artists
Released 1984
Genre Rock, New Wave
Length 17:28
Label MCA Records
ProducerJimmy Iovine (16 Candles & Hang Up The Phone), Ira Newborn (GeekBoogie), John Cale (Gloria), & Alex Sadkin (If You Were Here)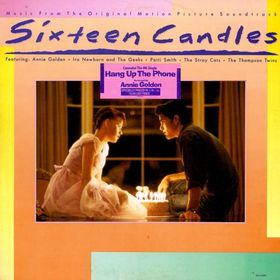 The original soundtrack was released as a specially priced mini album containing only 5 songs.
Reception
Critical response
SixteenCandles was well received by critics and is considered by many as oneof the best films of 1984.[7][8] Review aggregator website RottenTomatoes reported that 90% of critics gave it a positive rating, basedon 30 reviews. Ringwald's performance was especially praised; Varietycalled her "engaging and credible"[10] while Roger Ebert wrote that she"provides a perfect center for the story".
The character of LongDuk Dong was criticized for being racially insensitive and offensive toAsians and others who found that the character "represents one of themost offensive Asian stereotypes Hollywood ever gave America" andencouraged playground-taunting by quoting his stilted-English lines.Ebert defended him, writing that Gedde Watanabe "elevates his role froma potentially offensive stereotype to high comedy". Movie critic KarenFang has argued that Long Duk Dong's name may be a penis-related pun.
Box office
Sixteen Candles was a moderate success at the box office, grossing $23,686,027.
Awards
The movie ranked number 49 on Entertainment Weekly's list of the 50 Best High School Movies.
Sequel
In2005, Ringwald was reported to be producing a sequel to the film. As ofMarch 2010[update], Ringwald stated that she thought it was not a goodidea to do remakes of great classic films.